It goes without saying that a sewing machine will be one of the most important sewing tools that you need to have on hand. If you are beginning, you will want to look into a machine that will give you some basic stitches, sew in reverse, and more.
Sewing Machine
Once you have your sewing machine and you read up on all of the instructions on how to use it, you will then want to gather up all of the other items that you will need to tackle a series of sewing projects that you may have in mind.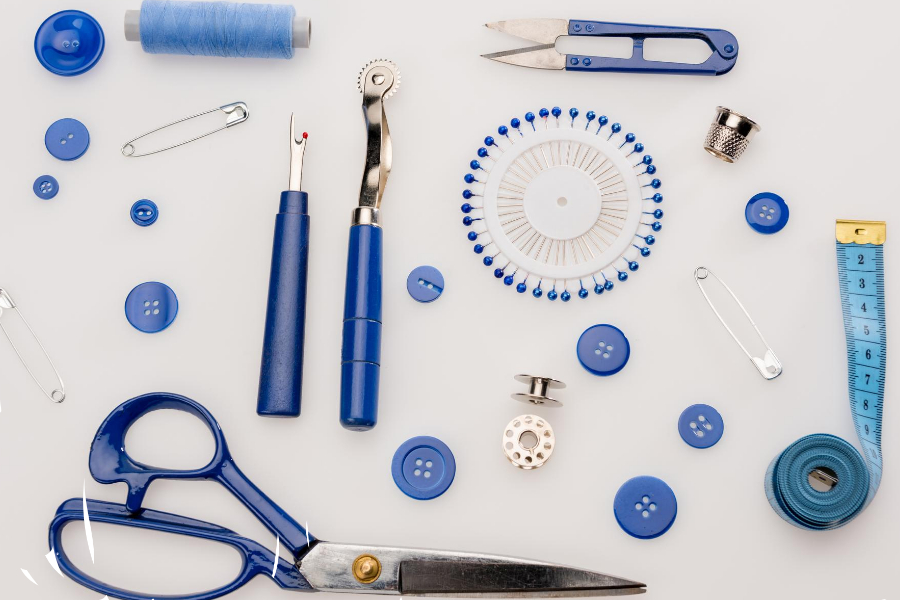 As an Amazon Associate, I earn from qualifying purchases. Some of the links in this article are affiliate links. This means that, at zero cost to you, I will earn an affiliate commission if you click through the link and finalize a purchase.
Sewing Machine Needles
Anyone who has been sewing for quite some time will tell you that it is a good idea to have several different needles on hand. Sewing needles for machine sewing come in a lot of different types and sizes, and you will want to take into consideration the type of thread that you are going to be using, the stitches that you need to make as well as the type of fabric that is being used for the project.
Universal needles are good to have on hand, and you will also want to have extras on hand as needles tend to get a bit dull with consistent use.
Hand Sewing Needles
Hand sewing needles are another must to have on hand as you are picking out the right tools to keep in your sewing collection. These are very helpful needles when you are sewing hems, putting buttons on, and even finishing up upholstery or pillows. Many sewing supply stores will offer a variety of packs that have a good selection of needles in them, including different eye sizes and point styles.

Straight Pins
To hold your fabric pieces together on your projects, you will need to have a decent amount of straight pins on hand. You can buy straight pins in different thicknesses so that they can handle different kinds of fabrics.
Silk needles are available for thinner fabrics so that they have the ability to slide in and out without the worry of leaving holes behind. The thicker straight pins are perfect for sewing tougher fabrics such as denim or leather. It may also be a good idea for a beginner to look for pins that have colored heads on them so that they are easy to spot while working.
Seam Rippers, Scissors And Threads
Seam rippers and sharp cutting tools will be crucial when you are working on any sewing project. You will also see that having a collection of thread on hand in different thicknesses and colors will help make sure that you will always have the best choice for a quick sewing job.
Picking out the best possible sewing tools to have on hand will make it so that every project will go smoother. The best selection of tools will also make it easier for you to learn as you go along and gain helpful sewing skills.